Coretec Vinyl Flooring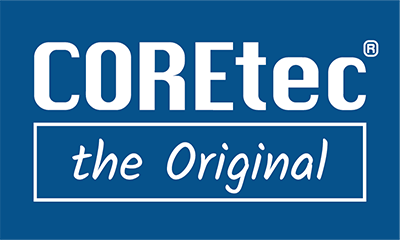 One of the pioneers in luxury vinyl, Coretec vinyl revolutionized the vinyl and resilient flooring market with their line of vinyl flooring products.  Coretec floors are 100% waterproof, pet proof, and kid proof.  Born from a search for a better floor, Coretec set out to create beautiful floors first and foremost with an environmentally friendly material base which helps to make the home and the environment healthier.   The Coretec Original line gives the look of wood while the Coretec Stone line offers various tile, stone, and marble looks.
Durability
Our experience with Coretec has been nothing short of impressive.  Aside from the high end look and solid construction, the product is as close to indestructible as possible.  One of our sales associates actually had their Coretec samples during hurricane Sandy.  Needless to say, the samples sat in brackish water for quite some time.  Once the water subsided, we were able to clean them up, and after a little deodorizing, they were as good as new.