Melvin "Rocky" Wright – President

Working summers as a teen with his father at Bucks County Tile in Chalfont, Rocky has been in the floor covering industry since the late 1960's. After graduating from CB West in 1972, Rocky spent five years with Barb-Lin Carpets of Doylestown and four years with Bee Jay Carpets of Lansdale. In 1980 he founded Wright Flooring Company as a one-man installation company with shop-at-home service. Today Wright Flooring continues the philosophy of one-to-one service, but with the support of many knowledgeable employees. Rocky and his wife Alison moved to the Pennridge area in 1976 where they have raised their three children, Christopher, Melissa and Stephanie. 
Rocky and his family believe that a strong local community is a key factor in ensuring a successful future for our families in the Penn Ridge area, and as such, you would often see him at the Sellersville Theater, watching one of the shows they sponsor, or in the past, coaching baseball teams and working with the local area to develop a place which everyone is proud to call home.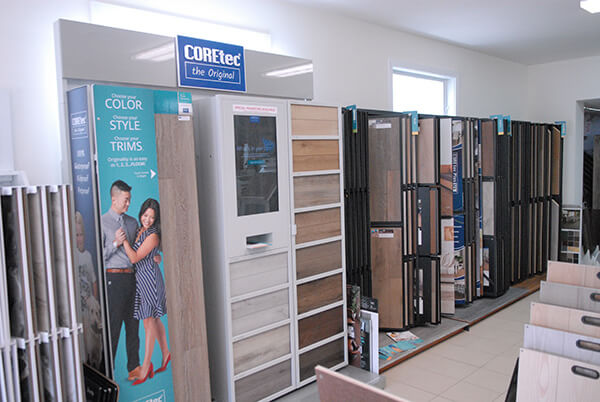 Since 1980, Wright Flooring has been an integral part of the Penn Ridge area, providing both residential and commercial flooring to the community.  Our vision was simple: Provide great flooring combined with personal, professional care and service.  Unlike the large home improvement centers, when you work with Wright Flooring, you're guaranteed to be working with a flooring specialist who knows the industry, as well as current trends and the best products for virtually any application.  Unlike the larger stores, we don't have any contractual obligations to promote certain brands or manufacturers, so our focus can always be on you and your particular needs.  With decades of experience in the flooring industry, you can be certain that no matter what your need, issue, or special circumstance, we've seen it before and can get you what you need.
Selection and Prices: Common Misconceptions
Most people think that local flooring companies are always higher priced with limited selections available compared to the "box stores", when in reality, we have mill-direct pricing, carry hundreds of selections, and are in many cases, the better deal.  One of the big differences between us and them is the fact that, while we carry all the major manufacturers, we only carry the products which we would be comfortable putting in our own homes.  This helps you, the consumer by eliminating the lower quality flooring which will inevitably wear quickly and leave you unhappy with your floor after a short time.  Our installers have been with us for years, so you can be assured that anyone who comes into your home has been vetted by us and has worked with us for a long time – we trust them in our homes, so you can too.
Don't take our word for it though.  If you're in the market for flooring, contact us here,  give us a call at (215)257-9380, or, better yet, stop into our showroom.