149 West Main Street  |  Silverdale, PA  18962
Hours:     Mon-Fri.  9:00AM – 5:00PM      Sat. 9:00AM – 4:00PM  Sun.  Closed
Wright Flooring | Quality Flooring in Bucks County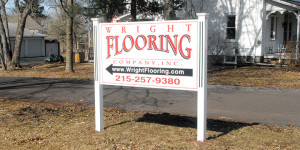 Welcome to Wright Flooring Company. For over 30 years we've been selling and installing quality flooring to the Central and Upper Bucks County areas.  We carry a wide variety of premium flooring products for any floor in your home or business.  Our philosophy is simple – sell great products at fair prices, combined with excellent customer service.  This is what has kept us thriving for over 30 years.  We don't sell online – we believe that in order to make an educated decision about investing in flooring for your home or business, you need to see and feel what you'll be putting underfoot.
Why Wright Flooring?
 At Wright Flooring, we're flooring specialists.  When you walk through the door, you'll get help from someone who knows flooring very well.  We only sell products which we would install in our own homes, and since we're not a large warehouse, we don't have room to stock low end flooring products.  Since we only deal in flooring, you don't have to worry about getting help from someone who has no experience with the product you're looking at, but rather you'll get some who has years of experience in flooring.  We deal directly with the manufacturers and mills, which means our prices are competitive, and often times lower than the large home stores.  When you deal with Wright Flooring Company, you can also be sure that we're up on the latest trends and technology in the flooring industry, whether it's the new lines of waterproof laminate which were introduced this year, or the Coretec "Build Your Own" vinyl floor program.  We also offer special financing for many of our products, so ask us when you come in about our different programs. 
We understand the importance of knowing who you're working with when it comes to installing home improvements in your home or business.  It's vital that the people installing products know what they're doing and are professional.  You can be certain that our installers have all been with us for years, and we trust them all in our own homes.  We don't subcontract out to people we don't know well.    In short, when you deal with Wright Flooring Company, you can be confident that you'll get exactly what you need, installed professionally and cleanly,  at a good price. 
Please feel free to browse our flooring site and contact us with any questions you might have.  Better yet, stop in and see us and we can help you get the flooring you've always wanted.
Wright Flooring is a proud sponsor of the Sellersville Theater!